Eder Militao chuan Real Madrid a zawm thei chu lawmawm a tih thu sawiin, Spanish club ropui takah chuan chanchin thar duhawm tak siam ngei a tum thu a sawi.
Real Madrid chuan Brazilian defender Militao hi a hmain an lo be fel tawh a, Copa America an khel zo ta bawk a, Santiago Bernabeu-ah mi hmuh theihin an pho lang ta a ni.
Kum 21-a upa Eder Militao chuan, "Los Blancos ka zawm thei hi ka lawm hle a, he club tana khelh hi a hma daih atanga ka duhthusam a ni tawh a. Tunah chuan ka duhthusam chu a takin a thleng ta a, a lawmawm dan hi ka sawi thiam lo," a ti.
"Naupang ka nih lai atang tawh khan khawvela club lian leh ropui bera khelh hi ka chak tawh a. President leh Real Madrid tantute zawng zawng chungah lawmthu ka sawi a, min rin tawkna avanga hetiang dinhmuna ding thei hi ka ni tih ka hre chiang hle," a ti bawk.
A sawi zelnaah, "Ka chunga rinna nghattute zawng zawng chu thlamuang takin an awm thei tawh dawn a, helai hmunah hian season tha tak ka hmang ang a, chanchin thar duhawm tak siam ngei ka tum tlat a ni," a ti.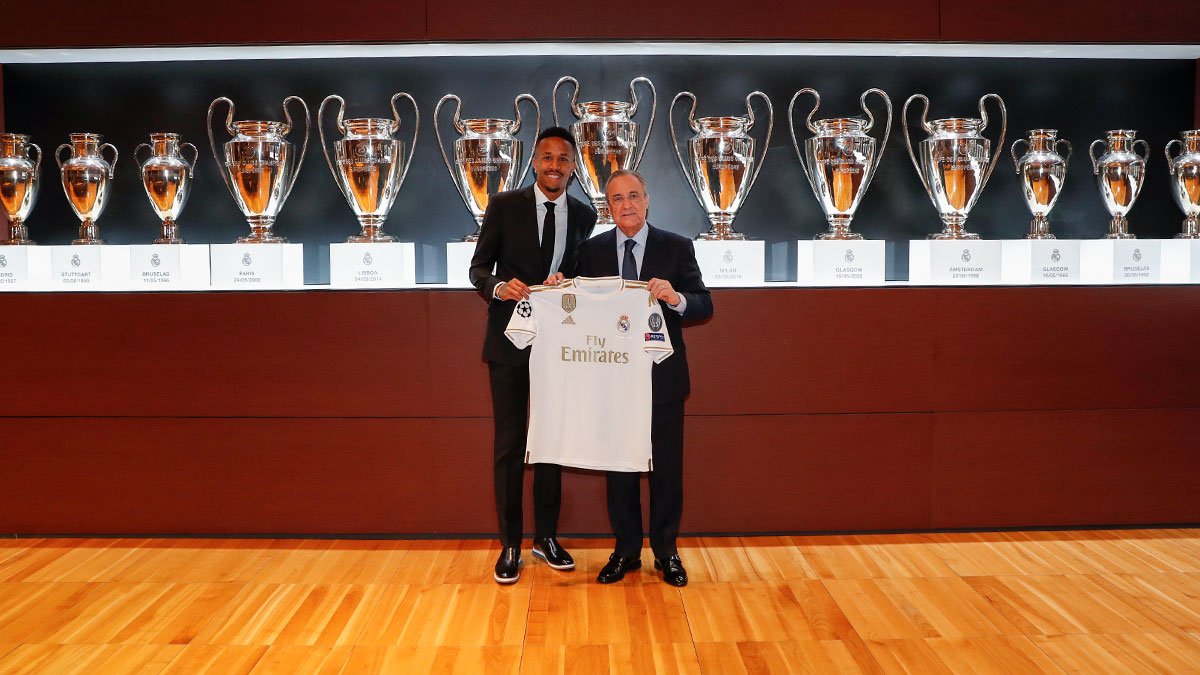 Militao hi central defender ni mahse right-back angin a khel thei a, defensive midfielder angin a awm thei bawk a, a tul dan azirin a khelhna hi a thlak danglam thei a ni.
"Player inthlak danglam thiam tak ka ni a, a tul dan azirin ka khelhna hi ka thlak kual thei a. Khelmuala ka luh tawh chuan nuam ti takin ka inkhel thei reng zel a ni," tiin Militao chuan a sawi.
"Chak loh hi ka duh lo a, ka khelh tawh hi chuan chak zel ka tum thin a. Ka phak ang tawka thaa khelh ziah ka tum thin a, theihtawp ka chhuah zel thin. Ka club tharah pawh hmun chan tam theih ka tum dawn a, a tam thei ang ber khel thei turin tan ka la ang a, coach thu zawm that viau ka tum ang," a ti bawk.
Zinedine Zidane chuan Eder Militao hi a lei fel hmasa ber a, kumin March thlaah khan €50 million release clause chu an tifel tawh niin an sawi a. Hemi hnuah hian Eden Hazard, Luka Jovic leh Ferland Mendy te chu a lei leh tawh bawk a ni.
Real Madrid president Florentino Perez chuan, "Vawiin hi kan club tana ni pawimawh leh chhinchhiah tlak tak mai a ni a. He club hi chak thin kan ni a, kan tlawm ngai lo a, kan nihna nen inhmeh deuhin khawvela defender tha berte zinga mi kan la lut a ni," a ti.