Memorial Cricket Ground, Sihhmuiah Mahuma Memorial Cricket Tournament Round 6 match hnuhnung ber chu December ni 10 khan Chhinga Veng CC leh Tlangnuam ten an khel a, Chhinga Veng CC te hian rund 115 laiin Tlangnuam hi an hneh a ni.
Toss-a vannei zawk Chhinga Veng CC (3C) lamin vuak hmasak an tlang a, opener Lalthlamuana leh 1st down-a rawn lut Lalnuntluangate wicket hloh vat mahse 3C lam an buai phah lo. Abjay Joshi (45 runs) leh Lalruatdika (37 runs) bakah an state pawn player Saiddul Faruq (29 runs) ten an vuak that em avangin over 40 ah wicket 8 hlohin run 213 zet an siam.Tlangnuam lam vawmtuah Denver Khuhly leh Jeremy Lalhruaitluanga ten wicket 2 ve ve an la a ni.
Tlangnuam lamin target sang tak an um tih hriain chak ngei tumin an bei chhunzawm veleh a, an opener Andrew Lalhmachhuana (35 runs) leh Jeremey Lalhruaitluanga (22 runs) te an rawn che tha chho viau a, an chet sual hnuah Lalmuanpuia (28 runs) bak rawn thawh belh vak awm lovin 3C lamin Zarkawt Lords all-rounder an lak tak Lalruatdika spin chu Tlangnuam lamin an ngam lo hle.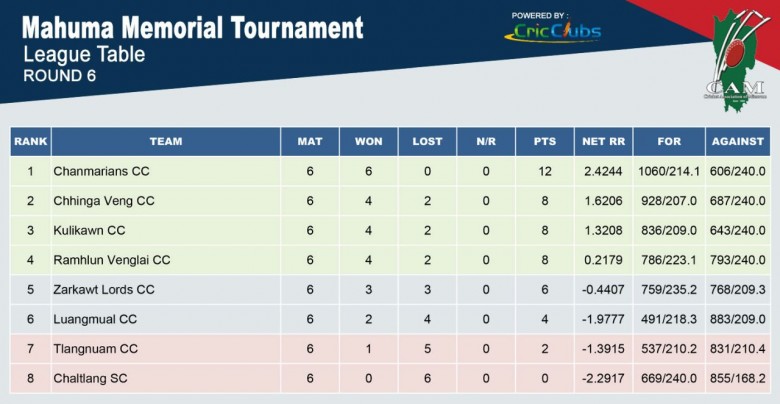 Lalruatdika hian over 7.5 a vawmah run 27 pein wicket 6 lawih a la a, Lalnuntluanga nen an insem ni berin a hriat. Lalnuntluanga hian batting lamah run siam lovin out mahse wicket 4 lai a rawn la ve bawk a, Tlangnuam Batsmen te hi an pahnih hian over 24.3 ah run 98 chiah siamin an vawm out dun ta a ni. Tichuan run 115 lawihin 3C te hian Tlangnuam te hi an hneh ta a, Lalruatdika chuan run 37 a siam a, wicket 6 a la bawk, ani hi Man of the Match a thlan a ni.
Mahuma Memorial Cricket Tournament 2016 ah hian Semi Final lut chiang tawh Chanmarians an awm a, Relegate chiang tawh Chaltlang SC an ni bawk. Round 7 na leh a tawpna berah engkim a chiang dawn a ni.
12.12.2016
Round 7 (9:15AM)
Luangmual CC vs Zarkawt Lords